Community Dance Clinic/Football Performance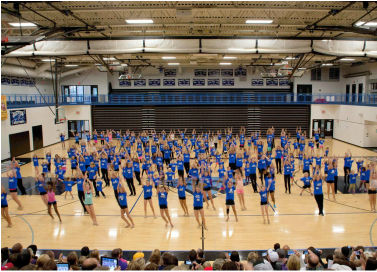 When
: Friday, October 6
As all students in District 196 do not have school on Friday, October 6 and there is a home football game that evening, we will be hosting the clinic and performance all in one day.
Clinic
: 1:30-5:30pm for Grades K-8 / 3:30-5:30 for Preschool
Dance Review
: 5:45pm
Includes performance by participating dancers & Lightning Dance Team. Family & friends are invited to attend!!
Open to: All kids 4 – 14 years.
No dance experience necessary
Fee: $48.00/Participant for grades K-8 / $38.00 for Preschool
Fee includes: T-shirt - Personal instruction by Eastview Dance Team - Snack provided on the day of the clinic - Performance at an Eastview football game w/ pizza dinner (weather permitting)
What to bring/wear: T-shirt, shorts, tennis shoes or dance shoes.
FOOTBALL GAME PERFORMANCE: Friday, October 6
​All participants will have the opportunity to dance with the Lightning Dance Team at the halftime show of a Lightning Football Game! Detailed information will be handed out at the clinic. (PLEASE NOTE THAT EVENT IS WEATHER PERMITTING AND CAN NOT BE RESCHEDULED IF CANCELLED.)
​
REGISTER ONLINE AT: www.signmeup.com/121558